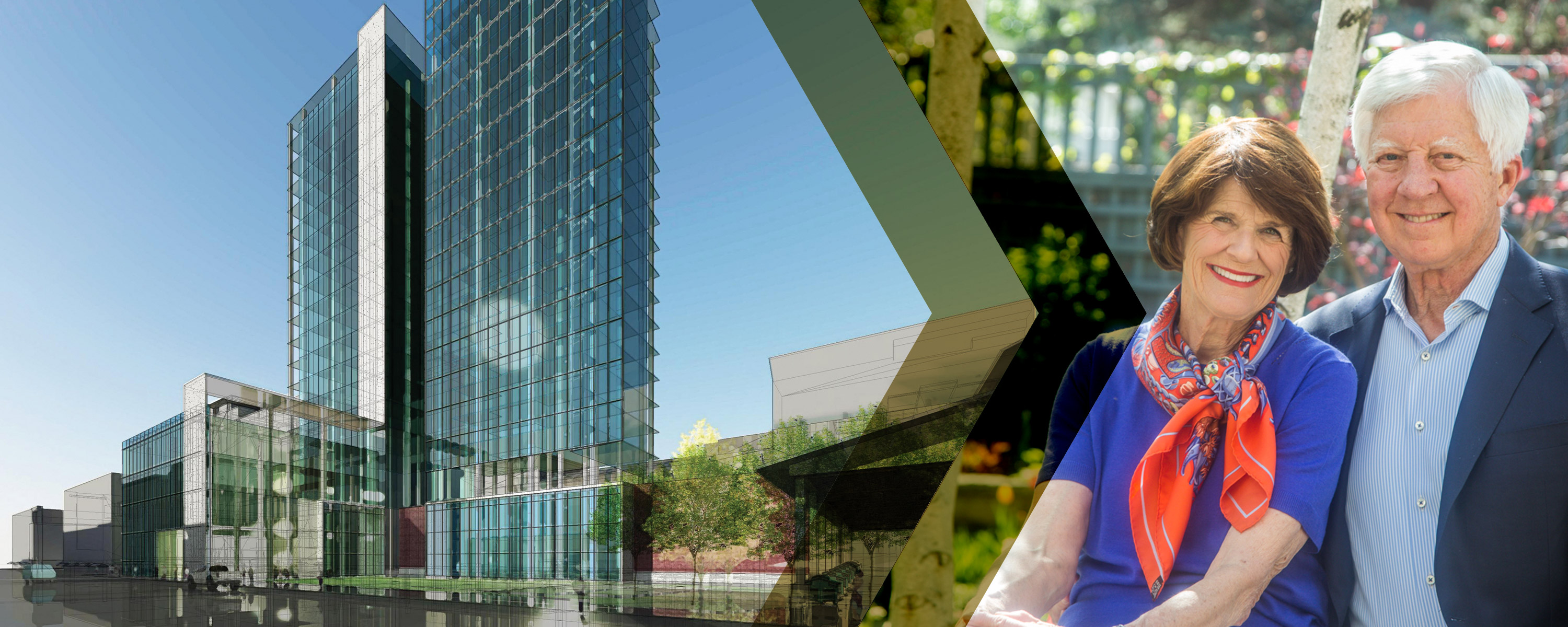 Building on their long record of support for the Institute, William W. "Bill" George, IE 1964, HON Ph.D. 2008, and his wife, Penny, have made a generous commitment to the second of two towers that will comprise Tech Square III. This tower will house the No. 1-ranked H. Milton Stewart School of Industrial and Systems Engineering (ISyE), and it will bear the George family name. 
"This family's support can be seen and felt in the experiences of our students who benefit from various scholarships and fellowships, and through the impact of our faculty, made possible because of the generosity of Bill and Penny George," said President Ángel Cabrera. "We are honored to affix the George name to this transformative next step in Tech Square and our campus." 
George Tower will join Scheller Tower, funded by a commitment from Ernest Scheller Jr., IM 1952, HON Ph.D. 2013, and his wife, Roberta R. Scheller, Honorary Alumna, in 2019. Both towers are expected to open by the end of 2022. 
George, a Georgia Tech Foundation Trustee Emeritus, is also, along with his wife Penny, a member of The Hill Society and Founders' Council, and is an active member of the Georgia Tech Advisory Board. His career includes executive positions at Honeywell and Litton Industries before joining Medtronic as president and CEO. He is currently a professor of management practice at Harvard University. 
George credits his undergraduate years at Tech for helping him develop both hard and soft skills that he has relied upon throughout his career. "I learned more about working with and leading people at Georgia Tech than I have at any time in my life before or since," George said. 
He noted Tech's dedication to collaboration in particular. "One of the unique things about Georgia Tech is the capacity of faculty across multiple disciplines to work together. Today's really tough problems require a systems approach, and I think ISyE is so important as a place to bring those multidisciplinary approaches together," he said. The Stewart School's eventual move into George Tower will provide even more opportunities for collaborative research, development, and learning. 
---
To inquire about making a gift in support of Phase III of Technology Square, contact Vice President for Development Barrett H. Carson at barrett.carson@dev.gatech.edu.

Tech Square: Phase III
When completed, Tech Square III will add 400,000-plus square feet of academic, research, and retail space to the Tech Square complex. Tech Square III's two named towers will provide top-tier facilities for both ISyE and the Scheller College of Business graduate and executive programs. Tech Square III will occupy the last significant building parcel remaining in the 10-square-block portion of Georgia Tech's campus located in Midtown.