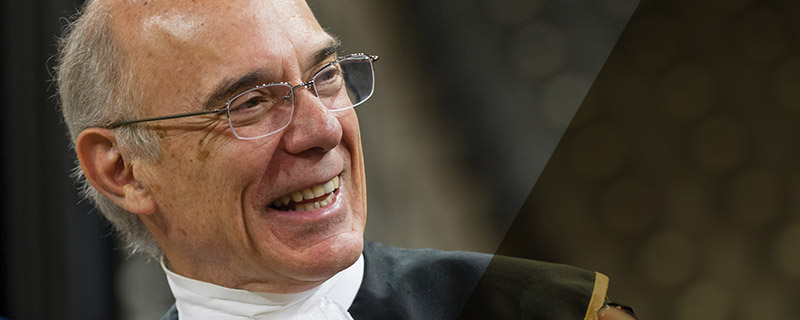 Shortly after Provost Rafael L. Bras announced his decision in Spring 2020 to transition to a new role as Georgia Tech professor, longtime colleagues began plotting a surprise "thank you" from those whose lives he'd touched through his work at the Institute. With leadership gifts from Michael Tennenbaum, IE 1958, HON Ph.D. 2016; Steven A. Denning, IM, 1970, HON Ph.D. 2019; and Friedel Stubbe, CEE 1970, it was agreed that a need-based scholarship with preference given to students from Puerto Rico would be the perfect way to honor and thank Bras. When surprised with the news just prior to the announcement of the new provost, the normally stoic civil engineer was moved. "This exceptional honor combines two things I am passionate about: financial aid and Puerto Rico," he said. 
Bras, who earned all of his degrees from the Massachusetts Institute of Technology, holds bachelor's and master's degrees in civil engineering and a doctorate in water resources and hydrology. He was a professor in the departments of Civil and Environmental Engineering and Earth, Atmospheric, and Planetary Sciences at MIT prior to his appointment as distinguished professor and dean of the Henry Samueli School of Engineering at the University of California, Irvine.
Bras came to Georgia Tech in 2010, and served 10 years as provost and executive vice president for Academic Affairs and the K. Harrison Brown Family Chair. During his tenure, undergraduate applications tripled, Georgia Tech's enrollment increased by 74%, and graduate programs have grown so significantly that the Institute now has more graduate students than undergraduates. Other major accomplishments include the online Master of Science programs in computing; Library Next, a reinvention of the Library; a new campus in China; the Arts Initiative; "Deliberate Innovation, Lifetime Education," a blueprint for Georgia Tech and the future of higher education; and, most recently, the formation of the School of Cybersecurity and Privacy in the College of Computing. Georgia Tech is now considered one of the most innovative universities is the country. "I think we've had a wonderful 10 years of reputational growth and quality," Bras said. "Georgia Tech has always focused on excellence and on our mission. But the work is never over."
In his view, one of the greatest challenges Tech faces is ensuring that all qualified students have access to financial resources that allow them to attend the Institute. "Our ability to provide financial aid is largely limited to students within Georgia," Bras said. "I think this new scholarship will open some doors, and I hope it will allow more students from Puerto Rico to attend Georgia Tech." 
Although Bras has stepped down as provost, he has no plans to retire. As a faculty member in both the School of Civil and Environmental Engineering and the School of Earth and Atmospheric Sciences, he will continue the research he has maintained during his time as provost. When it comes to teaching, he "would like to do something different. I've taught GT1000, which was a wonderful experience. I would like to develop curricula to help students develop their professional values."
Bras predicts continued growth for Georgia Tech, and now considers himself permanently part of the Yellow Jacket family. "Georgia Tech has had a trajectory unlike other institutions in the United States" he says, and he credits a concerted effort in the late 1980s and early 1990s to position Georgia Tech as a research university with a clearly defined focus on science and engineering. The transformation to a full-scale technological research university has led to excellence beyond engineering. Tech now excels in the humanities and social sciences, business, design, computing, sciences, and professional education, which is a necessity to be globally competitive and ranked among the best universities in the world.
"We have a mission and we have a flavor, and we should keep it that way," says Bras when explaining the reasons for the acceleration of the trajectory of excellence. The Rafael L. Bras Scholarship Endowment will become an important part of that strategy, he adds. "I am so grateful to the alumni, friends, and colleagues who contributed more than $1 million to establish this resource in my name. My wife Pat and I have added our own commitment to grow the fund, and we hope it continues to expand through investments and additional support. The need is enormous."