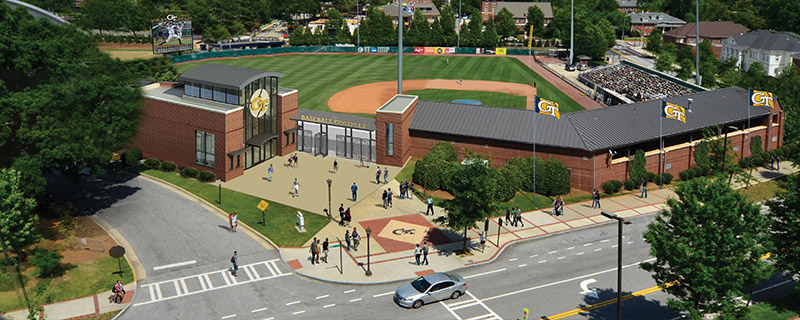 The view from Georgia Tech's Russ Chandler Stadium is singular. Midtown skyscrapers hover on the horizon, reminding fans that the runners rounding the bases are playing on the campus of a thriving university in a booming city — a city full of employers eager to hire the future Tech graduates battling it out on the field.
Tech has had an on-campus baseball field for nearly a century. The original venue was funded by $76,000 in proceeds from Tech's participating in the 1929 Rose Bowl and was called Rose Bowl Field. In the 1980s, the baseball stadium was named in recognition of A. Russell Chandler III, IE 1967, whose philanthropy made much-needed renovations possible. The stadium and its training and locker rooms have been renovated and expanded since then to accommodate the growing program. Lawton M. "Mac" Nease III, IM 1965, has been instrumental in supporting Tech's baseball program. A former Georgia Tech baseball player himself, Nease along with his wife, Brenda, have directed significant philanthropy toward recent phases of renovations and expansion.
"The baseball coaches are great role models, and the team performs well on the field and off," Nease said. "It feels great to support that." Nease, who started playing baseball when he was 10, played in high school and then for two years at Georgia Tech. "When I was at Tech, we played about 20-26 baseball games per year," he said. "Now, they play a minimum of about 65 games up to maybe 80 games in a season. The team spends more time in and around the baseball stadium than anywhere else on campus." And the team has consistently been rewarded for their efforts, with nine ACC titles and appearances at the College World Series.  
To support this successful program Georgia Tech launched a $13.5 million, two-phase facilities renovation initiative. Phase 1, a $4.5 million endeavor completed in 2015, resulted in significant enhancements to the team's locker room and lounge areas, the training room, the coaches' locker room, and the study room.
At $9 million, Phase 2 includes a new entrance with a heritage area to highlight players' achievements both on and off the field; a rooftop plaza; a new high-tech video scoreboard; new restroom facilities and concessions, including a premium club area; and a year-round, climate-controlled training facility for use by Tech players, as well as alumni and off-season Major League Baseball players. Phase 2 renovations are slated for completion in February 2021.
The suite of renovations the Neases have helped fund is the catalyst for the naming of the Mac Nease Baseball Park, which was dedicated on April 25, 2021. "When I walk out onto that field, I have to pinch a piece of grass to make sure it's not artificial," Nease said. The field itself has won national awards, including "Field of the Year" in 2008, 2014, and 2019 by the Sports Turf Managers Association.
Top-tier facilities benefit current student-athletes, and they also help the Institute continue to recruit talented future Yellow Jackets. "To get great players, you need great facilities," Nease said. "A few years ago, the baseball facilities were upgraded, and with Phase 2, our facilities will rival any school in the ACC."  
The timeless nature of baseball has inspired countless movies, books, and popular songs. "The game hasn't changed. It's still three strikes and you're out, four balls is still a walk, and if you hit it out of the park, you get a home run," Nease said. "But everything around baseball has become much more sophisticated."