It was a finger poke to the chest that renewed Francis Lott's relationship with Georgia Tech. Since then, he has endowed a Tech Promise scholarship and designated a seven-figure testamentary commitment for Tech's new Master of Real Estate Development. His generosity has benefited the Institute, his community, and Lott, himself, in some significant and unexpected ways.
Francis Lott, TECH 1958, ARCH 1959, graduated, he didn't have much engagement with Georgia Tech other than occasionally making a four-hour drive to attend a football game and catch up with his buddies from Beta Theta Pi. As an ROTC student, he had gone straight into the U.S. Air Force, then returned home after four years to Douglas, Georgia, to work with his brother at Lott Builders Supply Company.
But his interests and ambitions eventually led him in a new direction.
"It took me a while to figure it out — 12 years in fact — that I really just didn't like what I was doing and wasn't good at it," he says. "So, I leveraged my building supply experience and knowledge of construction, along with my architectural design training at Tech, to transition into real estate development."
Lott is founder and president/CEO of Lott Properties Inc., a commercial real estate development firm. Through construction and renovation, as well as leadership, volunteerism, and philanthropy, he has changed the landscape — both physically and economically — in Coffee County. In addition to other awards, he has twice been named Volunteer of the Year by the Georgia Economic Development Association, in 1995 and 2015.
And, at the Alumni Association's Gold & White Honors Gala on January 25, Lott received Georgia Tech's Dean Griffin Community Service Award — a recognition that might never have come if not for the aforementioned finger to the chest.
Wayne Clough Day
It was about 12 years ago, as Lott recalls. He was attending a Georgia Chamber of Commerce Board of Directors spring retreat at The Cloister on Sea Island, when fellow board member William J. Todd, IM 1971 (Georgia Tech Hall of Fame), asked him if he knew alumnus Wayne Clough, CE 1964, MS CE 1965.
"I said, 'I don't,'" Lott recounts. "And Bill said, 'Well, he's the president of Georgia Tech, and he's doing an exemplary job, and he was born and raised in Douglas.'"
Todd went on to explain that Clough's family had moved to Chattanooga when he was 13, but Clough still claimed Douglas as his hometown and proudly championed it. Lott remembered the Clough family's ice business, but because Clough was a few years younger, he didn't think they'd ever met.
Lott continues: "So, Bill says, 'Dr. Clough is a visionary leader at Georgia Tech and arguably the most esteemed native of Coffee County, and you're a Tech guy, and something needs to be done in your hometown to recognize Dr. Clough. And then he stuck his finger on my chest — like I owed him money — and said, 'You need to do it!'"
That encounter gave rise to Wayne Clough Day in Douglas and, ultimately, Lott's passion for helping new generations of young people from Coffee County get their start on the road to success via Georgia Tech.
It Takes a Lot of Foundation
One of the most enduring legacies of Georgia Tech President Emeritus G. Wayne Clough (1994-2008) is the Tech Promise Scholarship program, established by Clough in 2007 and later named in his honor, to provide a debt-free education for Georgia students from low-income families. Admitted students whose families make less than $33,300 a year receive assistance over and above the HOPE Scholarship and federal work-study to cover expenses such as fees, books, housing, and a meal plan.
The final year that matching funds were available for the G. Wayne Clough Tech Promise Scholarship Program — 2014 — also happened to be the year Lott sold some property, freeing up money to help fund his philanthropic interests.
He and his wife made a $500,000 gift — matched to total $1 million — to fund the Francis and Diane Lott Promise Scholarship Endowment, with income designated for qualifying Tech Promise students. First priority is given to residents of Coffee County, then to students from 64 other counties that constitute "South Georgia."
Right out of the gate, three Coffee County students received Promise Scholarships from the endowment, but Lott soon realized that to promote an ongoing and steady stream of applicants to Georgia Tech — Promise Scholars and otherwise — he would have to do more than just give money.
"Georgia Tech was just not high on the radar for many of our top-performing students," he says. "They did not think they could make the grade at Tech, and even if they did, they might not be able to afford to attend — and financial aid might not be available to help."
Lott began visiting Coffee County High School to talk to students. He challenged them to do well in math and science and brought Georgia Tech brochures and fliers to hand out. Then, one day, a chance conversation with a former Coffee County school superintendent led him to expand his efforts and diversify his tactics.
"She said, 'Francis, you know, it's good what you're doing, but kids just can't decide to go to Georgia Tech in the 11th grade — you need to start them early, they need to be involved in community and school activities and working to build a strong resume; it takes a lot of foundation.' So now I've been going to 8th, 9th, 10th, and 11th grades."
On one visit, he brought along 50 Georgia Tech T-shirts. "They all vanished in a flash," he says with a laugh. "Students are spreading the Georgia Tech 'brand' all over town!"
Parents now stop Lott on the street or call to thank him for inspiring and encouraging their children to challenge themselves, and both applications and enrollment from the area are on the rise.
---
Georgia Tech Education + Coffee County Opportunities
Francis Lott's campaign to boost Georgia Tech enrollment from his community is good news for Coffee County, where, as they like to say, "Business is Brewing." A high-tech talent pipeline is critical for local industries and institutions such as Southwire, Optima Chemical, PCC Airfoils, Premium Peanut, Premium Waters, Pilgrim's, Coats and Clark, Walmart Distribution Center, Elixir Industries, Coffee Regional Medical Center, South Georgia State College, and Wiregrass Georgia Technical College, which employ expertise in advanced manufacturing, aviation and aerospace, computer science and digital media, health care, and warehousing and logistics.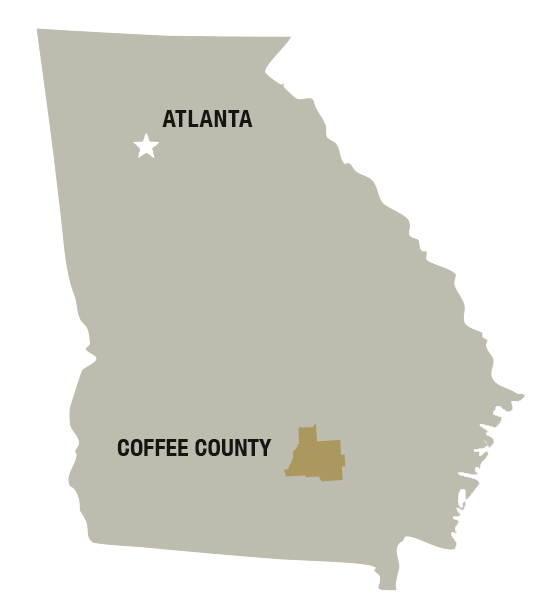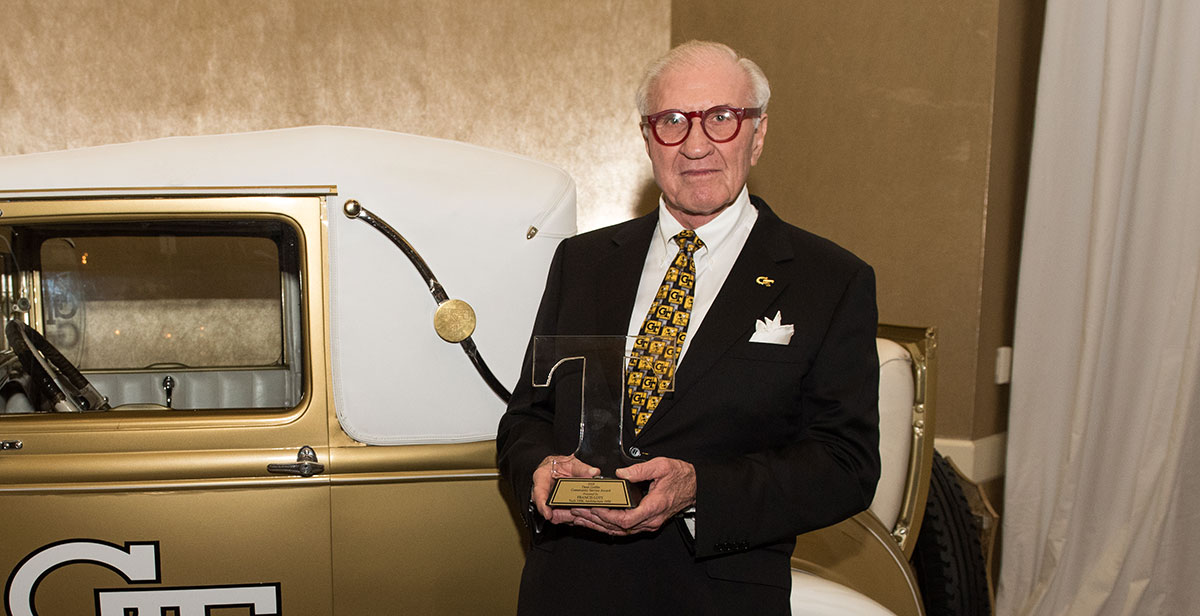 Francis Lott, ARCH 1959, receives the Dean Griffin Community Service Award at the Alumni Association's Gold & White Gala on January 25.
The Most Rewarding Thing
Fifteen Coffee County students will be enrolled at Georgia Tech this fall, four of them Promise Scholars. For Lott, one of the most rewarding aspects of his scholarship endowment and unofficial ambassadorship for Georgia Tech has been getting to know the students and having them show their appreciation.
"When some students come home from Tech for weekends and vacations, they call me," he says. "We get together for lunch and talk about their careers and experiences at Tech — at 81, it's pretty cool to be hanging out on occasion with 19 year olds!"
These interactions have also opened Lott's eyes to the financial hardships that some students face. One Tech Promise student, Lott realized, couldn't afford clothes for college, so he bought him a wardrobe.
"He's just incredibly generous," says Susan Sanders, director of Development for the College of Design. "He bought this student a blazer, a couple of ties, some shirts, some khakis, and shoes."
---
"Georgia Tech was just not high on the radar for many of our top-performing students. They did not think they could make the grade at Tech, and even if they did, they might not be able to afford to attend — and financial aid might not be available to help."
Sanders recalls visiting with Lott one day in Douglas. "We're sitting there talking and Francis said, 'You know, I've been engaged in a lot of community activities in my life, but this is the most rewarding thing I have ever done.'" Lott continues to be motivated by that sense of satisfaction. "Knowing that I'm doing something that really changes and improves lives, and to have Coffee kids graduating from Georgia Tech with a degree that, depending on their own initiative and opportunity, can go anywhere and do anything — debt free — that is hugely rewarding to me."