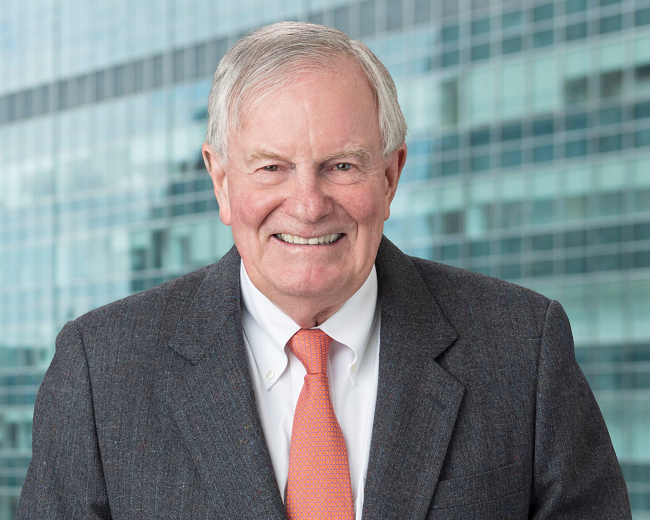 Throughout his accomplished career, business leader and author H. Bruce McEver, IE 1966, has remained true to an abiding and "sincere interest" in archaeology, a fascination that began with his childhood explorations of the Native American mounds on his uncle's property in Gainesville, Georgia. A former member of the Archaeological Institute of America, McEver had long been thinking of ways to promote Georgia Tech's potential to lead the world in archaeological research. A visit a few years ago to the prehistoric Great Serpent Mound in Peebles, Ohio, with his friend James B. Langford Jr., an archaeologist and member of the Ivan Allen College of Liberal Arts Advisory Board, heightened McEver's intention to amplify Georgia Tech's commitment to archaeological research, culminating in his recent gift to the School of History and Sociology in the Ivan Allen College.
The H. Bruce McEver Chair in Archaeological Science and Technology establishes a first-time presence for Georgia Tech in working to develop and apply new technologies to advance the field of archeological science. The aim of the endowed position is to establish, encourage, and support the interdisciplinary field of archaeological science and technology, socio-historical inquiry, and related research and programs at Georgia Tech.
Over the past two decades, there has been a sea change in the role of technology in archaeological research, making Georgia Tech the natural home for this investment, according to McEver. Ground penetrating radar, genomics, and other advanced geophysical surveying methods have revolutionized the field, leading to more efficient and cost-effective techniques than traditional excavation-and-shovel tests. These innovative techniques are also far less destructive and more environmentally friendly. Georgia Tech and the Ivan Allen College, with its accomplished record of deploying emergent technologies to fashion new approaches to the humanities and social sciences, can bridge these gaps and achieve regional and global prominence in this domain. McEver hopes that this chair will provide the opportunity "to do a service and have a real impact." The gift will have far-reaching implications for the work of the humanists and social scientists in the College who study the dynamics of human societies.
"This gift is an exciting opportunity to welcome archeology to Ivan Allen College and Georgia Tech," said Kaye Husbands Fealing, dean of the Ivan Allen College of Liberal Arts and Ivan Allen Jr. Chair. "As the College increasingly integrates science and technology with social science and the humanities, we're uniquely positioned to bring both technological and ethical expertise to the field of archeology." McEver graduated from Tech with a degree in industrial engineering in 1966 and has remained close to the Institute ever since. He went on to earn his MBA from Harvard Business School in 1969 and later returned to Harvard to earn his master's degree in theological studies in 2011. The author of three books of poetry and a recent memoir, Many Paths, that details his enduring passion for archaeology, McEver is chairman of Berkshire Capital, which he co-founded in 1983, and directs the long-term strategy, business development, and marketing efforts of the company. He has served as a professor of practice within the Ivan Allen College and currently provides volunteer leadership and service to his alma mater through his involvement on the Georgia Tech Arts Advisory Board, the Georgia Tech Foundation Board of Trustees, and the Ivan Allen College Advisory Board. McEver previously served on the Georgia Tech Advisory Board and encouraged his classmates to support Georgia Tech through his roles on milestone reunion committees.
He has directed previous integral philanthropy for faculty as well as programming in the Ivan Allen College. Building upon his longstanding relationship with Georgia Tech, McEver said this latest commitment represented "a chance to really do something" to place Georgia Tech at the forefront of archaeological research and technology.