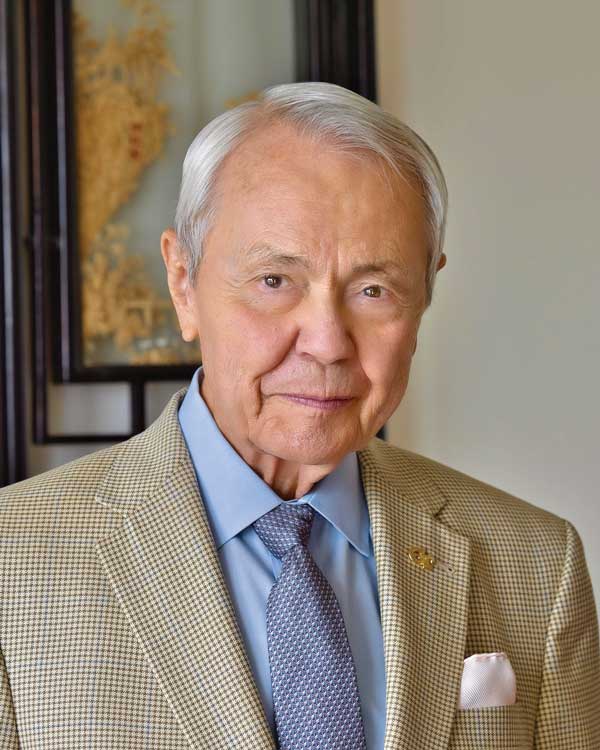 John H. Weitnauer Jr., IE 1949, had long planned to fund a faculty chair, and the H. Milton Stewart School of Industrial Engineering (ISyE) was the likely choice. "Georgia Tech has always meant a lot to me, and I wanted to give back in a bigger way," he said. "And ISyE was where I earned my degree."
Over time, Weitnauer said he'd "had a realization about the rising cost of healthcare, but two recent stays in the hospital have brought healthcare costs to the front of my mind." And improving the healthcare industry "is a great opportunity for industrial engineers." After several conversations about different philanthropic options, Weitnauer decided to fund a joint chair between ISyE and the Wallace H. Coulter Department of Biomedical Engineering (BME).
"This is a particularly exciting gift, as it will impact the areas of health and medicine in ISyE and BME, expanding the level of expertise and creating an increased synergy between the two disciplines," said Edwin Romeijn, the H. Milton and Carolyn J. Stewart School Chair in ISyE. "Combining our efforts to tackle healthcare efficiency and efficacy, bioinformatics, bio-manufacturing, and more, positions us to effectively advance our mission to improve the human condition."
Combining the process and supply chain knowledge of ISyE with the healthcare and medical expertise of biomedical engineering seemed like a logical solution. "I've requested that the chair appointee have an entrepreneurial spirit and a proven leadership background, and be committed to collaboration so he or she can work well with both schools," Weitnauer said. "I also hope the appointment might increase interest in ISyE in developing more of an emphasis on healthcare, and that they find ways to improve both efficiency and costs."
Susan Margulies, the Wallace H. Coulter Professor and Chair, said she looks forward to "the opportunity to recruit a leading scholar to work at the interface" of biomedical and industrial engineering. "This chair will strengthen our interdisciplinary collaborations in the growing area of personalized medicine, offering a unique opportunity to capitalize on computational data science and bioinformatics tools, combined with systems and biomedical engineering approaches, to pioneer innovative treatments for cancer and inflammatory diseases."
Weitnauer previously established both the John H. Weitnauer Jr. Technology Transfer Chair and the GRA Eminent Scholar position in the School of Electrical and Computer Engineering. The retired chair and CEO of Richway Inc. has also volunteered his time and considerable expertise. Weitnauer served on the Presidential Search Committee for G. Wayne Clough; the Georgia Tech Foundation Board (past president); the ISyE Advisory Board; and was vice chair of the Georgia Tech Centennial Campaign. He has received the J.M. Pettit Distinguished Service Award and is a member of the Engineering Hall of Fame.  
"I've had a great time volunteering at Georgia Tech," he said. "I'm grateful for my education, and I feel obligated to Tech."