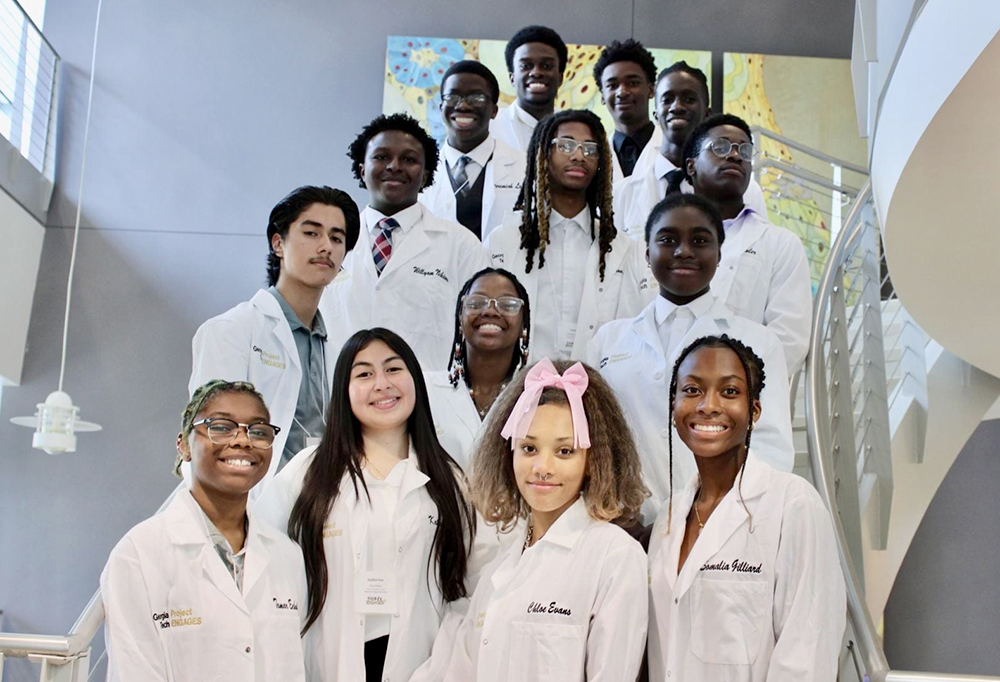 A recent grant from The Coca-Cola Foundation, the primary philanthropic arm of The Coca-Cola Company, will strengthen its commitment to Georgia Tech and provide critical support for key areas across campus. 
The new grant continues support for Coca-Cola First Generation College scholarships in the Ivan Allen College of Liberal Arts as well as study abroad opportunities and funding for postdoctoral students in Sustainability and Global Development in the Sam Nunn School of International Affairs. Kirk Bowman, professor and Regents' Entrepreneur, said, "The Coca-
Cola philanthropy is vital for the students and research impact in the Nunn School. Solutions to today's global challenges require interdisciplinary work and innovative research." The recent Coca-Cola grant, he said, "provides novel and important enhancements and opportunities for students" to reach these goals.
The grant includes funding for Georgia Tech's Project ENGAGES, a high school science education program that works with seven minority-serving public high schools in Atlanta to bring underrepresented groups into STEM fields. Lakeita Servance, an education outreach manager with ENGAGES, said, "This generous grant will positively affect the lives of brilliant students who are traditionally underrepresented in STEM and marginalized in their communities." She added, "This support has allowed Project ENGAGES to double our acceptance rate with the most recent cohort, which began June 1. We are immensely grateful and excited to continue investing in these young scholars."
Another important program benefiting from the grant is Tech's EXCEL program, a four-year college certificate program for students with intellectual and developmental disabilities. EXCEL Program Director Ken Surdin said, "The Coca-Cola EXCEL Scholarship Fund will provide critical need-based awards to increase program completion for students motivated to participate in an inclusive college experience that awards professional education certificates and prepares them to be an integral and valued part of higher education, the workforce, and society."
Saadia Madsbjerg, president of The Coca-Cola Foundation, expressed her enthusiasm and said, "We are delighted to extend our support to Georgia Tech and contribute to the growth and success of these outstanding programs. At The Coca-Cola Foundation, we believe in empowering the next generation of global leaders through education and innovative opportunities. We are confident that this investment will create lasting impact in the lives of students and their communities, fostering a brighter future for all involved."
The Coca-Cola Foundation has a long history of visionary philanthropy throughout the Georgia Tech campus, providing transformative support for students, faculty, and research, which extends across academic disciplines and includes student organizations.
This ongoing support is critical to increasing access to Georgia Tech to a wider group of bright, talented young minds and building a vibrant community of learning, discovery, and innovation. With this most recent gift, The Coca-Cola Foundation continues its lasting impact on the Atlanta community and generations of Georgia Tech students, providing lifechanging educational opportunities for the global leaders of tomorrow.