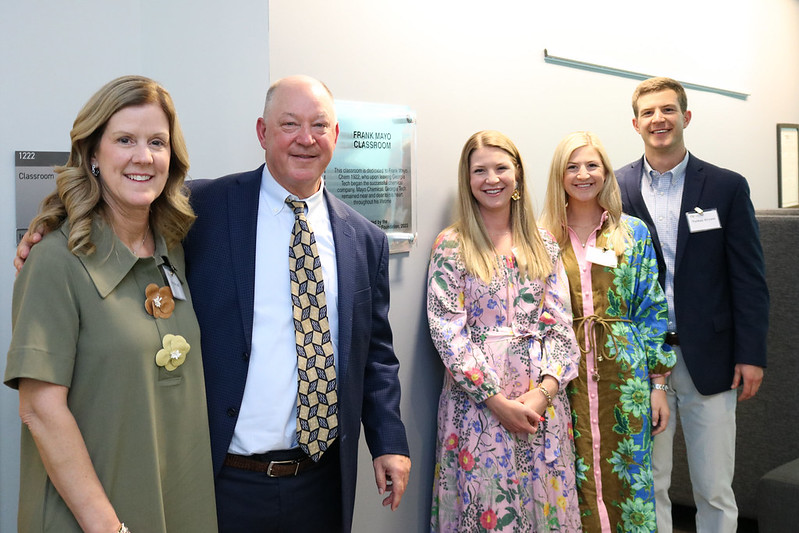 "The history of these honorees is the history of chemistry in the Southeast," said M.G. Finn, chair of the School of Chemistry and Biochemistry and James A. Carlos Family Chair for Pediatric Technology, at the dedication of three classrooms in the Molecular Science and Engineering Building. As a result of the generous philanthropy of John Bryant, these rooms now honor three individuals whose work in the chemical industry is significant not only to Georgia Tech but to the country: Frank Mayo; Julius Clarence "J.C." Shaw Sr., TEXT 1922; and Atif Dabdoub, Ph.D. CHEM 1976.
The room dedication was a joyful event. Faculty, friends, and staff who attended enjoyed remarks from Bryant and Finn celebrating the honorees and those who have supported their success in chemical research and education. One of Bryant's hopes for the named spaces is that students will learn about Mayo, Shaw, and Dabdoub and become inspired to enter the field of chemistry when they graduate.
Bryant's grandfather, Frank Mayo, attended Georgia Tech in 1922. As a young man, Bryant saw his grandfather "do nothing but work" throughout his life. Mayo was passionate about all sciences, with a special affinity for geology and chemistry. His bleach business, Farm and Industrial Chemical (which would later merge into Mayo Chemical), was a testament to Mayo's love and knowledge of both chemistry and business.
J.C. Shaw and Frank Mayo were fast friends and accomplished business partners. Their professional relationship began with Mayo providing bleach for the dye house and textile manufacturing company owned by J.C. and his brother, Robert Shaw. J.C. eventually expanded his family business, creating a holding company called Shaw Industries. He convinced Mayo to open a chemical plant in Dalton, Georgia to keep up with the manufacturing needs of the textile company. By 1985, Shaw Industries expanded its sales to more than $500 million and employed almost 5,000 people. The collaboration and dedication of Shaw and Mayo helped each of them achieve great success and anchor the growth of the manufacturing sector in Georgia and the chemical industry in the Southeast.
Another significant friend and business partner to Mayo was the chemist Atif Dabdoub, who joined Mayo Chemical after completing his Ph.D. at Georgia Tech. Dabdoub provided key scientific insight and leadership for the company, with a remarkable ability to understand complex chemical processes and arrive at simple and scalable solutions to problems. He also became close with Mayo and his family. In a touching eulogy, he lauded Mayo as "a connoisseur of good southern manners" with a "sharp wit, keen intellect, and a keen sense of reason."
Dabdoub attended the recent dedication as a guest, unaware that Bryant had named a room in his honor. He and his wife, Marsha, were thrilled when Bryant surprised them with the news.
Bryant feels connected to Georgia Tech through his family and through alumni he met at his company, Phoenix Chemical. He grew up hearing his grandfather speak highly of his time at Tech, and was happy when his son, Nathan, decided to take classes and join a lab on campus. Bryant appreciates how the School of Chemistry and Biochemistry does an excellent job of educating and connecting people in the field. Because of this, Bryant and his wife, Anne, directed endowed support to the School, providing the chair with resources to address emerging needs and new opportunities. The Bryants' support inspires others by highlighting the legacies of Frank Mayo, J.C. Shaw, and Atif Dabdoub, while helping the School advance and realize its top priorities.