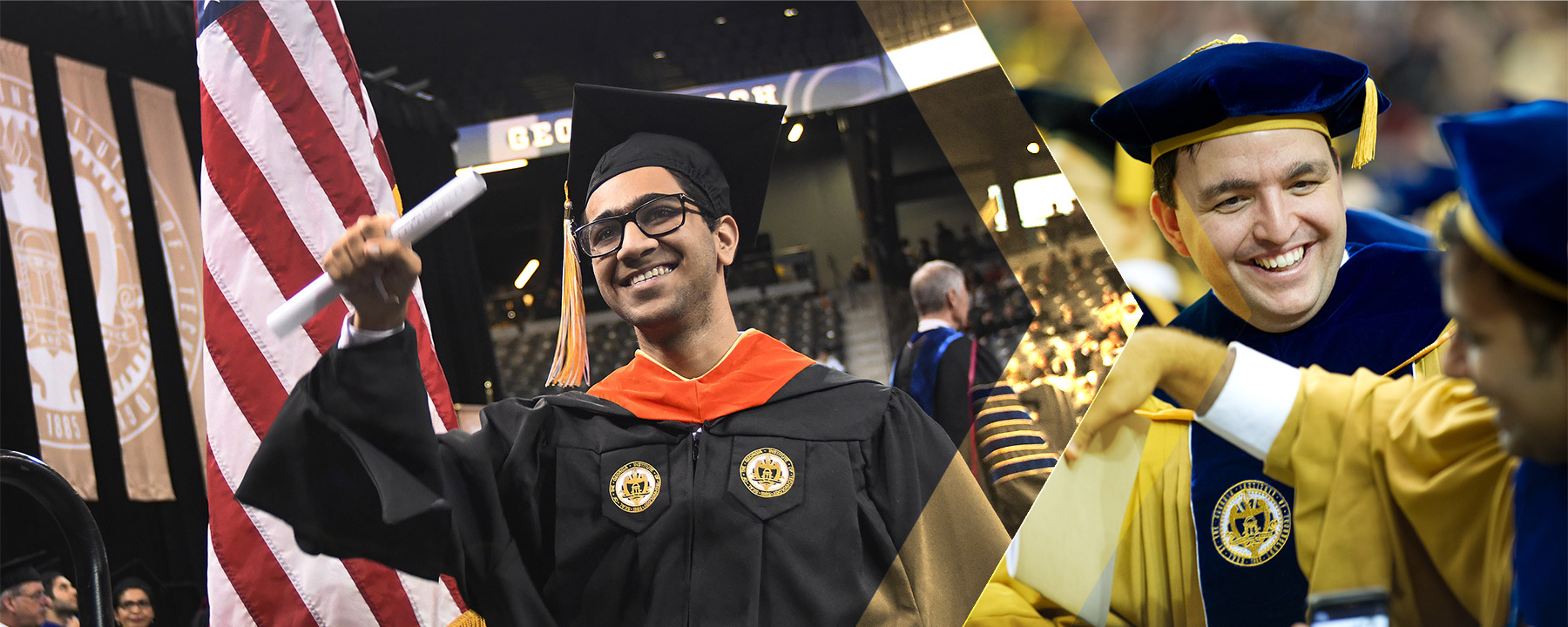 If a research university is a humming educational machine, graduate students are an often-unsung but indispensable component.
Graduate students' work, research, and contributions make key breakthroughs in research possible. Graduate students teach courses, run laboratories, perform research, and provide vital assistance to faculty and researchers pursuing achievements that not only serve the greater good, but literally save people's lives.
University faculty depend upon the work of top-quality graduate students, and the relationship is reciprocal: the most promising graduate students strive to work with and for faculty and researchers who are considered the best in their fields. When research universities successfully recruit both top faculty and top graduate students, everyone benefits.
However, this mutually beneficial scenario is threatened by tuition rates that continue to rise and graduate fellowship support that has remained stagnant. "For any top-tier research university, a thriving graduate student population is essential," said Rafael L. Bras, provost and executive vice president for Academic Affairs and the K. Harrison Brown Family Chair. "Graduate fellowships make all the difference in a research university's ability to recruit the most promising graduate students, which is a major factor in improved rankings among comparable schools."
The Rising Cost of Higher Education
Consider the average cost to pursue a doctorate at Georgia Tech. Students complete graduate coursework resulting in a doctoral degree in five-seven years. Tech alumni who hold undergraduate degrees typically earn average starting salaries in the $70,000 range, so a graduate student pursuing a doctorate is giving up an average of $350,000 - $490,000 in salary, along with benefits, potential promotions, and increasing years of experience.
If the student has "gone straight through," he or she has already spent four years earning an undergraduate degree and likely has accumulated some student loan debt. On average, Tech students graduate with $30,000 in student loan debt. If the student is married and/or has children, the cost of forgoing employment opportunities to pursue an advanced degree — regardless of potential future achievements and remuneration — can simply be too high. Students with great potential may well be lost to the job market or to universities with robust graduate fellowship endowments.
Georgia Tech is renowned for its faculty, facilities, and educational and research opportunities. The Institute has consistently risen in major national ranking categories as a result. However, the lack of funding for graduate fellowships, in particular, is a hindrance to Tech's potential future rankings because it puts the Institute at a disadvantage when recruiting the best graduate students. As much as a graduate may value Tech's reputation and offerings, he/she is likely to choose the institution that offers the best financial package. For the best and brightest candidates, that means a full graduate fellowship.
Graduate Fellowships: Adding to the List
---
Graduate fellowships strengthen the Institute in many ways. Donors understand this critical component of Initiative 2020, and they are giving generously.
The following are some of the most recent gifts directed to graduate fellowship endowments:
The Rosa and Neal Sumter MBA Fellowship Endowment Fund in the Scheller College of Business
The Susan and David Deiters MBA Fellowship Endowment Fund in the Scheller College of Business
The Bianca C. and Mark R. Bell Fellowship Endowment Fund in the College of Computing
The Connie L. and Roger E. Blythe Jr. MBA Fellowship Endowment Fund in the Scheller College
of Business
The Fernando and Gayle Mujica Fellowship Endowment Fund in the School of Electrical and Computer Engineering
The Erika S. and William M. Carter Fellowship Endowment Fund in the College of Computing
The Donna M. and Lewis A. Patterson III MBA Fellowship Endowment Fund in the Scheller College of Business
The Harry T. Morehead Jr. Fellowship Endowment Fund in the Woodruff School of Mechanical Engineering
The William L. and Claudine M. Nease Fellowship Endowment Fund in the Guggenheim School of Aerospace Engineering
Graduate Fellowships: Opportunities to Make an Impact
| | | |
| --- | --- | --- |
| Fellowship | Endowed | Current Operations |
| Named Full President's Fellowship (Ph.D.) | From $1.25 Million | From $50,000/year |
| Named Dean's Fellowship (MBA) | From $750,000 | From $30,000/year |
| Named Dean's Fellowship (MS, Ph.D.) | From $625,000 | From $25,000/year |
| Named Partial Graduate Fellowship (MS, Ph.D.) | From $150,000 | From $6,000/year |
Private Philanthropy Makes All the Difference
A generous infusion of giving to support graduate fellowships is the solution. In addition to attracting top graduate students, universities with well-funded graduate fellowship programs also attract and retain outstanding faculty. Private philanthropy dedicated to graduate fellowships can help ensure that a university has the means with which to maintain both a healthy graduate program and a thriving faculty.
Several alumni have already responded to this need with generous gifts. A.J. Land Jr., IMGT 1960, is one of them. When Land was made aware of the challenges facing graduate students in terms of funding, he transformed an estate commitment into a gift that includes both endowed and expendable funds.
"The stock market is at an all-time high, and it's a good time to give away appreciated stock," Land explained. "And it's a lot better to go ahead and give when the school needs money. My wife, Lynne, has committed to do the same for her school, Randolph College (formerly Randolph-Macon Woman's College), in Virginia," he added.
The Lands chose to support higher education in their giving because "education has meant a lot to both of us — what we've learned, friends we've met at school and known through the years. It's nice to give back a little," he said.
The Lands' gift of $1 million is directed to the Ernest Scheller Jr. College of Business, where $25,000 will establish an endowed fellowship to support graduate students. The remainder will be available to Dean Maryam Alavi as expendable funding to address current needs for graduate fellowships while the College builds its endowed resources.
"We made this gift with no strings attached," said Land. "The dean wanted to fund graduate fellowships, so that's what she decided on. [The gift's funding breakdown] is the way the dean wanted it."
Although federal funds, usually through grants, are a major part of the Institute's funding portfolio, they often come with strict requirements. Federal grants can be narrowly defined and tied to specific research outcomes. Graduate fellowships, on the other hand, allow a research institution to do what such institutions arguably do best: pursue research into challenging, interesting areas in which results are not guaranteed. The recipients of graduate fellowships are better able to "follow where the research leads."   
---
To inquire about making a gift in support of graduate fellowships, contact Vice President for Development Philip D. Spessard at phil.spessard@dev.gatech.edu or 404.385.1418.